The New Year's festivities (and their high-caloric meals…) are now over, which is the perfect time to implement all those resolutions you made. For most of you, this means a combination of losing weight and getting back in shape. Easier said than done though…
Instead of trying to go at it alone, there's a better way: get help from an experienced Personal Trainer.
If you want to:
Get in shape. Be stronger. Have more endurance.
Lose weight in a healthy manner and keep it off.
Improve your overall health and quality of life.
Get rid of stress in a pleasant and enjoyable way.
Then Personal Training is exactly what you need to achieve your goals.
.
Promotion!
From now until February the 15th of 2011, we're offering this special promotion:
Take your first 10-session package now and get 2 sessions for free!
Don't hesitate and contact us now for more information.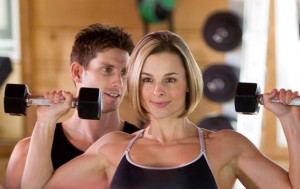 Wim Demeere works as a Personal Trainer since 1994 in Belgium, mostly in the region Antwerp and Brussels.
.
(Visited 161 times, 1 visits today)