Now the calm of the Summer holidays is over, it's time to get back in shape.   But as we all know, it's easier to make good health resolutions than to actually apply them in real life. Instead of trying to go at it alone, there's a better way: let an experienced Personal Trainer help you.
If you want to:
Get in shape. Be stronger. Have more endurance.
Lose weight in a healthy and lasting way.
Improve your overall health and quality of life.
Get rid of stress in a pleasant and enjoyable way.
Then Personal Training is exactly what you need to achieve your goals.
.
Promotion!
During the month of September, we're offering this special promotion:
Take your first 10-session package now and get 2 sessions for free!
Don't hesitate and contact us now for more information.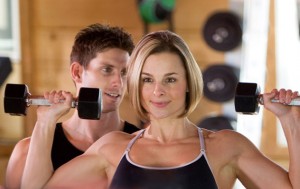 Wim Demeere works as a Personal Trainer since 1994 in Belgium, mostly in the region Antwerp and Brussels.
.
(Visited 163 times, 1 visits today)